Home » Adventure Sports » Horse Safari » Horse Safari In Jaisalmer
Horse Safari In Jaisalmer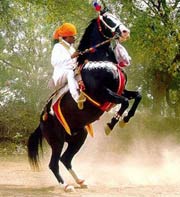 The role of horses in the Rajput Era had a significance of its own. The charming and the brave Rajput kings traveled on horseback only. Riding skills were imbibed in them right from the time of their birth. Horses were amongst the prized possessions of the Rajputs. Kingdoms were carved and battles were won on horsebacks. Get ready for the adventurous safari on the back of the noble animal.




No wonder, horse safari is the finest of all the adventures with a touch of regalia to it. The rocky cliffs and the sandy landscape of Jaisalmer proves to be an ideal locales for conducting horse safaris. Discovering the diverse facets of Jaisalmer, Rajasthan on a horse safari is a unique experience.




The routes that once belonged to the ancient armies are covered by these safaris, which may vary. Pass through the villages, see the splendid forts and magnificent havelis that dot the landscape of the city. As the sun sets, a camp in the dunes with a hearty dinner accompanied by cultural and colourful folk dances waiting for you to arrive. The camps that allow an overnight stay amidst the desert sand are equipped with all the modern amenities and sources of recreation. The accommodation also gives you the opportunity to observe closely the rural life that dwells in the harsh conditions of the arid land.


It is advisable to wear boots, sun glasses and hard hats before you go for a horse safari. A pair of jeans is comfortable enough. Jackets are essential as the temperature dips during the evening. The adventures related with a horse safari in Jaisalmer are undoubtedly interesting. Go back with a bagful of countless memories that will remain etched in tour memory forever.
Powered by SOFTTIX