Home » Destinations » Sikkim » Yak Safari in Sikkim
Yak Safari - Sikkim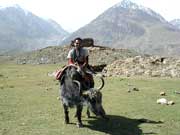 Get ready to experience adventure with a difference. While you are in Sikkim, do not miss the Yak Safari. Though you might have heard of Camel, Jeep and Horse Safari, Yak Safari is something that is new. You will enjoy appreciating the natural beauty of Sikkim while you travel through the craggy trails on the back of a Yak. Yak safari is organized in several parts of Sikkim. It is undoubtedly an experience which is one of its own kind.
The most popular trails for Yak Safari include the region around  Dzongri and Tsomgo Lake. Over centuries now, Yaks have been domesticated in Sikkim. But its use to make an all new adventure sport has been done recently. Tourists from far and wide come to Sikkim to enjoy a ride on the back of a Yak. Unlike several other adventure sports on the block that can be enjoyed only by the adults, Yak Safari is one that can be undertaken by the adventure lovers of all ages. The Yak Safari is an interesting voyage for one and all, be it a child or a grown-up.
The low temperature that prevails in Sikkim makes it an ideal place for Yaks to survive. In case you want to go for a Yak Safari make a booking in advance as it becomes extremely difficult to get a Yak ride in the peak seasons. The unique safari will be a memorable experience of your Sikkim Tour.
Adventure Sports in Sikkim:
Powered by SOFTTIX