ADVENTURE TOUR PACKAGES
Treks in Ladakh
Treks in Uttranchal
Treks in Himachal Pradesh
Home » Adventure Tour Packages » Valley of Flower Trek
Valley of Flower Trek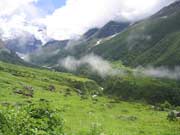 The Valley of Flowers is a beautiful meadow located at an altitude of about eleven thousand feet. It is the valley of the stream Pushpavati, a tributary of Alaknanda. Frank Smythe discovered 'The Valley of Flowers' in 1931 on his way back after a successful expedition to Mt. Kamet. Ferns, dwarf iris, dwarf larkspur, dwarf rhododendrons, primula, blue poppies, fritillaria, asters, potentillas, inula grandifloras and hundreds of other species grow wild in the valley.
The Valley of Flowers is a riot of color in August/September. Well over a thousand varieties of flowers, shrubs, orchids and plants in myriad hues, differing textures and colors paint the valley in a gorgeous display. The valley is a natural plantation surrounded by the dazzling snow clad Himalayas, a feast for the botanist and amateur alike.
Deep in the heart of the Himalayas, is this spectacular 'Valley of Flowers'. Many varieties of Himalayan wild flowers bloom here. Post Monsoons, the floor of the valley is covered with a carpet of myriad colours ! It is an awesome sight of colours with a contrasting back drop of majestic peaks.
The scope for trekking in Garhwal and Kumaon is immense. From short walks to arduous ascents to mountaineering expeditions, the diversity is staggering.
Legends associate this valley of Garhwal Himalayas with the area from where Hanumanji of Ramayana collected "Sanjeevani" herbs to revive Lakshmana, the younger brother of Ramaji. Hanumanji had to visit far-flung areas in his search for the "Sanjeevani" life - saving herbs.
In 1939, Miss Margaret Legge, a botanist deputed by the botanical gardens of Edinburgh arrived at the valley of flowers for further studies, While she slipped off and was lost for ever in the garden of the gods. Her sister later visited the valley of flowers and erected a memorial on the spot where the locals buried her. The thoughtful memorial is still there.
Tour Information
Season:
July, August, September
Total Duration:
10 Nights / 11 Days
Trekking days:
04 Days
Trekking Kilometers:
46 Kilometers approx
Special Features:
Valley of Flowers & Sikh Temple
Trek Grade:
Easy
Max Alt.:
12000fts, Valley of Flowers
Day 01: Flight to India (New Delhi)
You arrive in Delhi by international flight. After a traditional 'Swagat' (Welcome) our representatives would assist you at the airport and to our hotel for check in and overnight stay.
Day 02: New Delhi
Breakfast at the Coffee shop. Rest of the morning at leisure. You will be taken on a guided tour of Delhi, beginning with a morning sightseeing trip to Old Delhi and followed by visits to the 1648 Red Fort, India's largest mosque - Jama Masjid and Gandhi Memorial at Raj Ghat. Afternoon tour includes visits to India Gate, President's House, Humayun's Tomb, Lotus Temple and Qutab Minar. Overnight stay at hotel.
Day 03: Delhi-Haridwar (200Kms / 05hrs)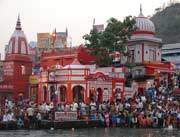 In the morning, we will drive to Haridwar. Haridwar is the gateway to the four pilgrimages in the Uttrakhand region and is located on the foothills of Shivaliks. It is on the banks of River Ganges. The River Ganges leaves the mountains and enters the plains with Haridwar being the first major town on the plains. Though the Ganges does not lose its rapids completely nevertheless it becomes very quite and calm here. The city acquires a unique charm in the evening when the ghats become breathtakingly beautiful with thousands of Diyas and Marigold floating in the waters of Ganges. We visit various places like Mansa Devi temple, Sapt Rishi, Daksha Mahadev temple etc. In the evening we will visit Har Ki Pauri again. In the evening a Maha Aarti is performed on this ghat. Overnight stay at the hotel.

Day 04: Haridwar - Devprayag - Karnprayag - Joshimath (290 Kms / 9-10 hours)
After an early breakfast, morning drive to Joshimath, Winter abode of Lord Badrinath with . The enitre drive is along the Alaknanda river. Lunch enroute at Rudraparayag. Arrive Joshimath and transfer to Deluxe Camp for dinner and overnight stay.
Day 05: Joshimath - Govind Ghat - Ghangaria (Drive - 2 hrs & Trek 7- 8 hrs)
Early morning at 0600 hrs we leave from Joshimath for Govindghat, which is the starting point for the trek. Govindghat a small hamlet situated on the confluence of Alaknanda and roaring Laxman Ganga. From Govindghat there is a gradual ascent along a well - maintained pilgrim trail to the camp at Ghangaria - the base from where day walks can be made into the valley of flowers. After a light breakfast, 14 km trek up to Ghangaria. Lunch and Dinner. Overnight at the Camp.
Day 06: Ghangaria - Valley Of Flowers - Ghangaria ( 4+4 Kms / 5-6 hrs walking )
After breakfast 4 km trek with packed lunch to Valley Of Flowers (3858 m ) from Ghangaria . The first part of the trek is through thick forest along the Pushpavati river. Later we trek in the open meadow. The valley is an enchanting sight with an impressive array of rare wildflowers like brahma kamal, fane Kamal with range of small-multicolored flowers make it a delight for travelers. The snow clad peaks including Nilgiri Parbat (6474 m) stand in bold relief against the skyline. The valley is 10 kms long, 2 kms wide, and is divided by the Pushpawati stream, into which several tiny streams and waterfalls merge. After enjoying the beauty of valley we come back to Ghangaria. Dinner and overnight stay at the camp.
Day 07: Ghangaria - Hemkund - Ghangaria ( 6+6 Kms / 7-8 hrs walking )
After breakfast 6 km trek to Hemkundsahib (4329 m) from Ghangaria. This is quite a steep climb. In the Sikh holy book, the Granth Sahib, the Sikh Guru Gobind Singh recounts that in a previous life, he meditated on the shores of a lake surrounded by seven snowcapped mountains now recognized by Hemkund. Hemkund, one of the finest high latitude lakes in the area, and pilgrimage for Sikhs and Hindus as well. We visit Lake & Gurudwara and will have lunch here. Again 6 km trek back to Ghangaria. Dinner & Overnight stay at the Camp.
Day 08: Ghangharia-Govindghat-Badrinath - Joshimath (13 Km trek /73 Km Drive)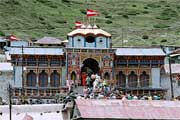 After an early breakfast leave for Govindghat and leave for Badrinath. The temple of Shri Badrinathji on the banks of the Alaknanda River dates back to vedic times. Situated at an altitude of 3,133 mts., the present temple is believed to have been built by Adi Guru Shankaracharya - an 8th century Philosopher saint, who also established a math here. Also Known as "Vishal Badri', Badrinath is one of the Panch Badris. The temple has three parts - Garbha Griha (the sanctum sanctorum), Darshan Mandap ( for Pujas) and Sobha Mandap ( for devotees to assemble). After Darshan and lunch we drive back to Joshimath for overnight stay at the Deluxe Camp followed by dinner.
Day 09: Joshimath - Haridwar (290 Km / 9-10 hours)
Early morning we leave with packed breakfast from Joshimath for Haridwar. On the way visit Devprayag and have lunch here and visit Rishikesh, Arrive Haridwar and checkin to your hotel for Dinner and Overnight stay.
Day 10: Haridwar - Delhi (200Kms / 4-5hrs)
After breakfast we visit Har ki pauri and then go to Chandi Devi by Cable car After lunch we proceed to Delhi. Arrive Delhi & Check-in at your hotel for Short stay.
Day 11: Depart Delhi
Our tour concludes. Caper thanks you for your patronage and ensures a punctual transfer to the International airport for your onward travel to your next destination.
Powered by SOFTTIX