Home » Adventure Sports » Horse Safari » Horse Safari In Himalayas
Horse Safari In Himalayas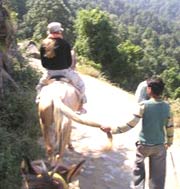 Exploring the different facets of a land on the back of a horse is a thrilling experience. The horse safari tours usually continue upto four or five days. Stay overnight in the camps that are equipped with all the necessary amenities. Explore the least explored barren and rugged terrains of India. Enjoy the galloping thrills while you are seated on a horseback.




Horse safaris are conducted in areas which are cut from the rest of the world. Places that are neither reachable by a car nor by a plane are explored through horse safaris. Take the example of the Great Himalayas where several remote regions remain untouched till date. You can also spare time to indulge in trekking while you are in the Himalayas.


Come and explore the bounties of Himalayas through a horse safari. Though the terrain is tough but it will add to the excitement of your horse ride in the Himalayas. Travel to those places in Himalayas that are unexplored till date. During your journey, meet locals and catch a glimpse of their culture and customs. Make sure that you are accompanied by a professional guide. The journey will be one of those memories that you will cherish forever.
Powered by SOFTTIX