Home » Adventure Sports » Elephant Safari » Elephant Safari in Kerala
Elephant Safari in Kerala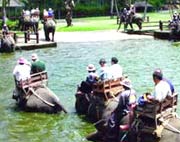 Elephant safari trips are very popular part of the adventure tours to India. Through an elephant safari, you can explore those terrains where even a jeep cannot reach. Moreover, you will be taken back to the royal bygone era while you travel like a Maharaja on the back of an elephant. Nothing is comparable to the majesty of this ride.




Since elephant is a slow and steady animal, an elephant safari proves to be an ideal one in case it is held around a wildlife sanctuary or inside it. An elephant safari will enable you to see closely the wildlife existing in the park. Click photographs of the wilds in India and return home with the memories of an amazing journey.




While you wander inside the Periyar Wildlife Sanctuary in Kerala you will be amazed to see its rich variety of flora and fauna. An elephant safari is the best way to explore the diverse facets of the Periyar Wildlife Sanctuary. While you are on your tour to the sanctuary, you can stay at any of the forest lodge or the rest house that the Kerala Department of Tourism provides for its visitors.




While you are inside the Periyar Wildlife Sanctuary riding on the back of an elephant, visit the Lake Palace that houses inside the sanctuary. This land with a lake was earlier ruled by a Maharaja. He built a dam across the Periyar river. The waters of the dam flooded the valley, resulting in submerging of the trees. In order to make the area delightful all over again, wildlife was put around this lake. Visitors enjoyed watching herds of elephants here.


The safest wildlife sanctuary for elephants, not only in India but all over the world is the Periyar Wildlife Sanctuary. Other animals that can be found in this sanctuary include sambar, wid pig and gaur.
Powered by SOFTTIX