Home » Adventure Sports » Elephant Safari » Elephant Safari in Himalayas
Elephant Safari in Himalayas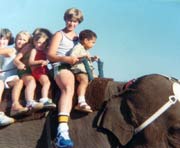 While you sit on the back of an elephant, you will be taken back to the bygone era when the kings used to ride on the back of these majestic animals. Nothing can beat the experience of an elephant safari. The modern day elephant safari is equipped with a large comfortable seat and a traditional umbrella that lies over the head of the rider. When compared with the elephants of the bygone era the modern day beasts are no less regal.




Elephant safari is the best way to explore the natural beauty that bestows in the Indian Himalayas. The wildlife sanctuaries in the Himalayan region can be best viewed while you are on the back of an elephant. An elephant can efficiently reach those areas where a jeep cannot venture. While you are riding an elephant inside a national park and are searching for a tiger, only then you will notice the versatility and efficiency of this animal to travel through the rough and tough Himalayan terrain.


Long rides on an elephant for several days will be great fun foe sure. Elephant rides in the Corbett National Park in Uttaranchal and Kaziranga National Park in Assam are some of the recommended sites for indulging in elephant rides in the Himalayan ranges.
Powered by SOFTTIX