Home » Adventure Sports » Elephant Safari
Elephant Safari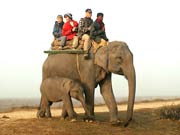 Those tough terrains where jeeps cannot venture can be explored through an elephant safari. While you sit on the back of an elephant, you will be taken back to the bygone era when the kings used to ride on the back of these majestic animals. Nothing can beat the experience of an elephant safari.




The modern day elephant safari is equipped with a large comfortable seat that has silk cushions and a traditional umbrella that lies over the head of the rider. When compared with the elephants of the bygone era the modern day beasts are no less regal.




Since elephant is a slow and steady animal, an elephant safari proves to be an ideal one in case it is held around a wildlife sanctuary or inside it. An elephant safari will enable you to see closely the wildlife existing in the park. Click photographs of the wilds in India and return home with the memories of an amazing journey. These safaris will allow you to explore the wildlife of India at its best.




Tips

Elephant safari camps are lavish. The safari in itself is an elaborate affair and several attendants are required to take care of the animal. Those are determined to go for journey that is memorable experience should not miss to undertake elephant safari in India.




While you decide to indulge in an elephant safari, there are certain points that you should take care off. Since the weather conditions that prevail in a desert type or tropical region, where elephant safaris are usually conducted, vary a lot it is advisable to carry along a lot of portable water, shades,
sun-block lotion and a first-aid kit.


Considering the extremely hot climate, make sure that you wear clothes give you some breathing space. Dress modestly and cover your head so as to protect it from heat and dust.
Powered by SOFTTIX