Home » Adventure Sports » Canoing » Canoing in Gulmarg
Canoing in Gulmarg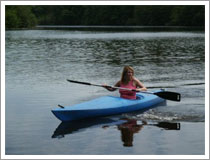 Gulmarg is an extremely beautiful hill station in Jammu and Kashmir. This heavenly land attracts tourist from all over the world. Canoeing in Kashmir is the best way to explore its legendary beauty. Canoeing is a recreational activity of paddling a canoe. Kashmir is dotted with amazing spots for this water sport. Srinagar,the capital of Jammu and Kashmir is only an hour drive from Gulmarg 'the meadow of flowers'.


Srinagar is blessed with beautiful lakes such as the world famous

Dal lake and Nagin lake.

Cocooned in sheer beauty the Dal lake offers a life-time opportunity of canoeing to its tourists. The experience of canoeing at Dal lake can not be expressed in words but should be experienced for real. The charming Ecosystem and beauty of of the Dal lake instills a feeling of thanks to God for creating such a heaven on earth. It is the second largest lake of the state. The surroundings of the lake is dotted with beautiful houses with slopping roofs on islands, lush green gardens and several houseboats. Nagin is another lake where tourists flock to enjoy canoeing in the heavenly ambiance. It is separated from the Dal lake by a paved way.
Powered by SOFTTIX