Home » Adventure Sports » Canoing in India
Canoing in India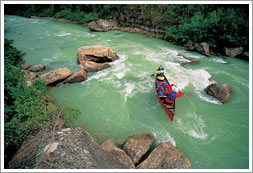 Excellent opportunities for canoeing are provided by the beaches that lie along the coastline of India and lakes located in the northern part of the country. Canoeing offers a good opportunity to reconnect with nature all over again. While you are are canoeing explore and appreciate the marvels that you see during your way. Paddle through the sea waters, explore beautiful islands and marine reserves that are packed with marine treasures in abundance. 




Canoeing is an eco-friendly water sport. You glide over the water bodies easily through a canoe as their ends are conical in shape. Because of this, canoes can be efficiently glided over different types of water bodies. A minimum of two people along with their gears can be accommodated in a canoe. The water sport is conducted over those rivers and lakes that have still water.




Kayaking is a similar adventure sport. Though it is not as old as canoeing but it is gaining popularity and coming up as a favourite water sport in India. A kayak can accommodate more than two people at a time. Apart from water bodies with still waters it can also be performed on white water. Beach sites in India provide the best opportunity for indulging in sea kayaking.




Tips

In case you are a beginner, you will have to become a professional in this sport. Before you indulge in canoeing, observe carefully the weather as well as the water level of the water body. Though the Indian coastline provides ample opportunities for canoeing, it is also known for its unpredictable surprises. So be careful while you are performing the sport. Canoeing is not only about being in the water body ans splashing some waves. Make sure that you are safe and comfortable during the activity. It is advised to carry along a swimsuit, a towel, sunscreen, a hat, sunglasses and a bottle of water.
Powered by SOFTTIX