Adventure Sports in India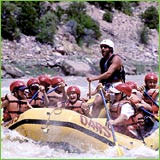 India, more popular as the land of snake charmers is the talk of the past. India extends far beyond this stereotype image. For centuries now, India has been placed as a cultural and historic tourist destination on the world map. But in the recent years, India has risen to be a prominent and distinguished destination for the adventure enthusiasts from across the globe.
There exists a sheer variety of adventure sports in India that you will simply love to indulge in. The diverse opportunities for adventure offered by the only country on the planet Earth catapults several adventure lovers to this place each year. From rock climbing to trekking in the Himalayas to river rafting in Uttaranchal, from hot air ballooning in the plains of India to camel rides amidst the golden sands of the Thar Desert. If all this is offered by the North India, South India offers immense opportunities for indulging in water sports.
ADVENTURE TOURS IN INDIA
ADVENTURE SPORTS
Markha Valley Trek (13 Nights - 14 Days)

The Markha Valley Trek is certainly one of the most varied and beautiful treks in the world. It ventures high into the Himalayas crossing two passes over 15,000 ft. as it circles from the edges of the Indus Valley, down into parts of Zanskar...

Lamayuru Alchi Trek (10 Nights - 11 Days)

This is a beautiful and interesting trek where we will come across some of the oldest and most famous monasteries in Ladakh, founded around 11th century by Lotsawa Rinche Sangpo...

Valley of Flower Trek (10 Nights - 11 Days)

The Valley of Flowers is a beautiful meadow located at an altitude of about eleven thousand feet. It is the valley of the stream Pushpavati, a tributary of Alaknanda. Frank Smythe discovered 'The Valley of Flowers' in 1931 on his way back...

Himachal Chandratal Trek (11 Nights - 12 Days)

With the opening of the road from Manali to Leh various new areas for trekking have opened up. One of the most fascinating of these is the Lahoul Valley, drained by two mighty rivers, the Chandra and the Bhaga...
Powered by SOFTTIX