Home » Adventure Sports » Water Sports » Water Sports in Goa
Water Sports in Goa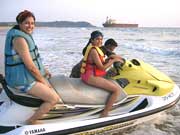 Goa is no less than a paradise for those who love water sports. You can indulge in the various types  of water sports offered by the long coastal areas of Goa. The coast of Goa has always attracted and invited sports lovers to come and try out exciting water sports. Goa allows you to surf the sea or float across the sky, take your pick. The options for enjoying water sports in Goa are never ending.




The under water world in Goa is also quite magnificent. A variety of marine life exists in Goa. Enjoy watching the fascinating marine life while you perform scuba diving or boat sailing. Hold your breath while you are water skiing, para sailing or wind surfing. Take diving lessons in case you area learner. You can also choose to go for fishing trips or Dolphin cruises.




Wind Surfing in Goa

The calm and blue beaches of Goa are an ultimate choice for continuing aqua sports fun. It feels great to surf under the shining sun on the ideal beaches like Calangute, Vagator, Colva, Dona Paula, Pololem, Bogmolo, Baga and Miramar.  Dona Paola bay offers the most suitable conditions for those who are new to surfing. The light breeze that blows during the morning time is just right for the beginners while the strong afternoon winds are a perfect challenge for the experienced ones.




Sailing in Goa

While you are in Goa, you would definitely want to try out the pleasant experience felt while sailing. Relax and recreate while you sail across the turquoise waters. You can hire dinghies from  various hotels and beach resorts in Goa. These dinghies can comfortably accommodate upto four people.




Water Skiing in Goa

If you like speed, water skiing is the sport for you. Satiate your hunger for water skiing in Goa. Hire a speedboat and get yourself swooshing on the blue waters of the goan beaches. The experience is simply thrilling. The speedboats can be hired from beach resorts and hotels.  These can carry a maximum of 8 people at a time.




Para sailing in Goa

Fly like a bird and soak yourself in the magic spell of the coastline of Goa – indulge in Para Sailing. Para sailing, also called Para Ascending, is one of the much sought after adventure sport in Goa. The most essential requirements of para sailing include a boat and a and a parachute. If high flying interests you, indulge in para sailing at least once. The experience is stimulating and will leave you asking for more. You will undergo immense pleasure while you fly high.




Scuba Diving and Snorkeling in Goa

Scuba Diving and Snorkeling are exciting activities. Snorkeling can be performed by families and kids but scuba diving can only be performed by those who have a lot of practice. Even such experienced tourists are accompanied by two of the trained scuba divers. While you dive, you will encounter a varied marine like. Spot damsels, lion fish, goat fish, tuna eels and more. Make sure that you check your equipment before you scuba dive.
Powered by SOFTTIX