Home » Adventure Sports » Water Sports
Water Sports in India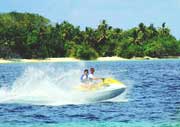 Talking of the options for water sports, India is equipped with a number of good ones. Let go your fear for water and indulge in the sport you like. Options for sports like white water rafting, fishing canoeing, scuba diving and water skiing are available to the adventure seekers in India.




While you are in India, you can indulge in water sports at Lakshwadeep in the Arabian Sea and Andaman and Nicobar island in the Bay of Bengal. But the best place for conducting water sports in India is Goa. Do not worry even if you are a learner. There are professionals to help you out and guide you. River Ganga and its tributaries are most ideally suited for performing rafting.




The never ending thrills of gliding over the gushy waters is the most adventurous facet of river rafting, also called white water rafting. The rivers in the upper Himalayas are the best suited for performing rafting in India. These rivers have innumerable staircase rapids that seem to be quite challenging to the river runner.


River Ganga has been no less than a mystery for the adventure lovers and explorers. It is packed with several surprises. The most popular place for white water rafting in India is River Ganga in Rishikesh. Though this river is navigable but some people still require the help of the professionals. Before you indulge in any of the water sports, make sure that you have all the gears and equipments required. These gears vary from activity to activity. Take into account the necessary precautions too.
Powered by SOFTTIX