Home » Adventure Sports » Trekking in India
Trekking in India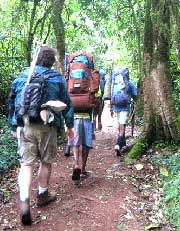 A number of trekking options are waiting for the trekkers. Some slopes are soft while others are rough. Easy or hard, treks are found in several parts of India. The country offers a vast scope for adventure, specially trekking. The trekking itineraries in Indian mountain ranges, that last for at least a day, prove to be the best opportunity for discovering new things by the trekker. While you trek in the high altitude regions of the mighty Himalayas, you will be fascinated by the natural beauty that exists there.




Trekking in India is undoubtedly an experience that will always remain etched in your memory. The tour will not only allow you to explore the least observed facets of nature but also enables you to connect with the colourful country - India, its people and environment.




Tips

You will have to take some precautions while you trek in the Himalayas. In addition to this, you will also have to spend extra time and money to buy the right pair of shoes so that you  are comfortable and your feet does not pain during the trip. Also make sure that the size of the shoes you buy is the correct one. Poor fitting shoes can spoil the fun of the whole tour.




While you trek downhill see to it that you toes do not touch the end of your boots and your hells are not lifted even to an inch. In case you are a beginner, start off with the trails covering a mile or even less than that. Thereafter, you can go for the tougher and longer trekking routes.




Equipments

Carrying the right equipments on your tour is very essential. Make sure that the bag you use to carry things has multiple pockets, a big zipper and padded shoulder bands. Fit the bag properly on your back in a way that it rests a little below your neck. Socks that you carry should be either in thick wool or synthetic. Other things that should be present in your bag include a first aid kit, a bottle of water, space blanket, route map and a swiss army knife.
Powered by SOFTTIX