Home » Adventure Sports » Skiing in India
Skiing in India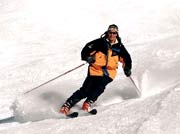 Are you driven by the call of adventure? Come to the India and accept the challenge that the snow-clad terrain offers. The charm of sliding over the snow-capped slopes is an awe-inspiring experience. Enjoy the fastest fascinating sport – skiing amidst the slopes of the Indian mountain ranges. Several famous playgrounds for conducting winter sports such as skiing are present in different parts of the country.




Skiing has gained immense popularity as an adventure sport in India. The most adventurous spot for conducting skiing in India are the Himalayan ranges. The vast open spaces covered with snow for years and the steep slopes make skiing even more adventurous in the Himalayas. Not only the vastness of the area but the different heights of the slopes add variety to skiing.




Tips

While you indulge in snow skiing, you will have to make an effort to balance your weight on your feet. Do not ski flat-footed rather ski on your heels. As you bash into the lumps of snow, you should have strong legs in order to withstand the beating knocks received while you ski.




Equipments

If you want to rent a snowboard, you will have to show a credit card and a photo ID proof. Your first experience as a skier will surely be fun-filled. Record it in a camera. Other things that you must carry include sunglasses, sun block cream, a hat, water-proof gloves and lip balm. At such a high altitude, the rays of the sun are very strong.
Powered by SOFTTIX