Home » Adventure Sports » Rafting in India
Rafting in India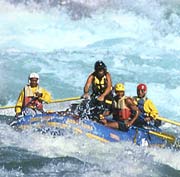 Bumping and swirling over the gushy waters is what makes river rafting in India a thrilling sport. Also known as white water rafting, the water bodies in the upper Himalayas serve as the best place for rafting across the globe. These rivers have several staircase rapids that make rafting a challenging water sport for the river runner. The waters of these rivers crashes into the rocks, cuts against rocky banks, breaking into rapids, foaming and falling with a roaring bang. A wide variety of rafting sites are offered by India, for both learners and professionals.




Rafting is your sport in case you are fit and do not fear water. Only a few hours of training can make you a professional rafter. Different regions in India make available to the tourists facilities of training in rafting. Training in river rafting is also provided by several state departments and tourism agencies.




Tips

Carry small secure items and also an extra piece of clothing in the water-proof bag. Make sue that you do not forget to get along any sort of prescribed medications such as insulin or inhalers, etc. Also carry a pair of sunglasses, a camera and sunscreen. Disposable water-resistant cameras are available at the sites. These are not a problem to carry along and enable you to click good pictures as well. Leave behind items like wallet, mobiles and car keys during your rafting trip.




Equipments

Make sure that the gears you use while rafting are appropriate ones. In case you indulge in rafting during the summer months, the basic equipments that are required include a swimsuit, tennis shoes, a hat and socks in nylon. Additional piece of clothing are required during spring and autumn. It is advised to dress in layers so that you can add or remove clothings according to the climatic conditions. Avoid cotton clothes in spring and autumn. You can even take wetsuits on rent.
Powered by SOFTTIX