Home » Adventure Sports » Para Sailing in India
Para Sailing in India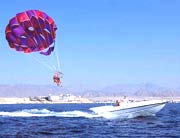 A water sport that is constantly acquiring popularity amongst the adventure lovers in India is parasailing. Those who love thrill and speed should indulge in this sport at least once in a lifetime. You will enjoy swinging above the turquoise blue waters of the ocean. Flying in the blue sky, gradually rising and falling on the gushing waters is a wonderful experience. Parasailing can be conducted during ant time of the year except for the monsoons.




Equipments

The most essential requirements of parasailing include a boat and a parachute. In para sailing, a rope which is about 300 feet in length is attached to a the parasail at the one end and to the speedboat from the other end. The sailor is lifted up in the air as soon as the speedboat accelerates in the ocean. The sailor has no control over the parachute as he is attached strongly to the rope. The control of the height and momentum is done entirely by the speedboat while the sailor controls the sideways movement of the parasail. Observe the brilliant blue sky and turquoise water as you parasail. 




Tips

First of all, make sure that the company you choose to parasail with is a fully licensed one operating from an established location. Beginners should not chose to parasail in winds so as to avoid any sort of complications that may arise. Thirdly, make sure that you

do not indulge in parasailing during rain and fog

. It is also recommended to not to parasail near other boats or close to the shoreline to avoid any sort of accidents. Lastly, before you indulge in parasailing make yourself aware of all the equipments and devices used in the activity.
Powered by SOFTTIX