Home » Adventure Sports » Mountaineering in India
Mountaineering in India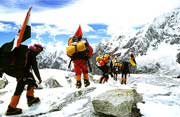 Mountaineering in India is not a new sport. Along with the evolution of the human evolved the adventure sport. It was initially developed in order to meet people and trade goods across the border. Though man developed other modes for transportation with time but his nature to take risks still remained the same.




Himalayas are ideally suited for conducting mountaineering. The lofty peaks of the Himalayas that are very difficult to climb serve to be the ultimate destination that satiates your zeal for indulging in mountaineering. Challenges offered by the Himalayas were accepted by man. He then conquered new heights and discovered new routes. Not only the professionals but the common man also takes the sport seriously. 




Trekking routes and peaks are marked on the maps that are available for the interested adventurers. Courses in mountaineering are offered for the beginners in several institutes located in different parts of India. Necessary equipments are available in places where you indulge in mountaineering.




Physical Fitness

It is recommended for people who are overweight and suffer from either high or low blood pressure not to indulge in high altitude sports like mountaineering. People below 18 years and above 48 years of age are not allowed to participate in mountaineering by some institutes like the Directorate of Mountaineering and Allied Sports in Himachal Pradesh. 




Tips and Equipments

Before indulging in mountaineering in the Himalayas make sure that you exercise regularly at least for two months. Carry along with you your personal medicines and a first aid kit. Before taking up mountaineering ensure that you have the appropriate level of fitness. You will have to present an evidence of the fact that you are good at handling technical equipments such as harness, ropes and several others. If you fail to do so you will not be allowed to participate in this sport.


All the equipments can be purchased or hired from the

Indian Mountaineering Foundation

(IMF) located in Delhi. Communication will be possible only through wireless sets, do not forget to carry them. If you travel with us, all the arrangements will be made by us so as to make your expedition comfortable and memorable.
Powered by SOFTTIX