Home » Adventure Sports » Camel Safari
Camel Safari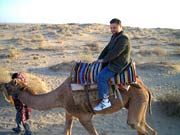 Camel Safari is not new to India. Fondly known as the "Ship of the Desert", camels have been a major source of transportation for centuries in Rajasthan, India. Exploring the whole of the desert on the back of a camel has become popular amongst the tourists from far and wide.




The Thar Desert provides ideal opportunities for a camel safari around the desolate sand dunes. It enables you to discover the true essence of the desert. Brilliantly companioned camels led by traditionally dressed butlers exhilarate the adventure enthusiasts from across the globe. Experience wonderment as you gaze the changing colours of a sunset over the desert horizon.




A gala entertainment behind the doors of desert land invites tourists to come and explore the series of hill tops, thorny trees and shrubs, sloppy sand dunes and rural charm. The camel safari is a popular extravaganza amongst the tourists.




The best way to explore the unexplored facets of Jaisalmer is on a camel safari. Every holiday maker who comes over to Rajasthan goes for a camel safari. These safari trips are organized well. Moreover, in the company of the tour guides you can explore these magical sand dunes at their best. Stay overnight at the camps organised set up for the holiday makers. Camel safari provides an opportunity to peep into the interiors of the desert landscape. You can see the otherwise least explored rural charm of Jaisalmer while you take a camel ride.




Tips

Camel safari is not only about travelling on a camel's back. There are some points that you need to keep in mind when you indulge in a camel safari. Do

book your camel safari trip beforehand.

It will be difficult to get one during the peak season. Extreme climatic conditions prevail in the desert so it is recommended to carry plenty of drinking water, sun block lotion, first aid kit and goggles. Wear loose clothes in cotton and shoes. Try to protect yourself from heat as far as possible, specially your head.
Powered by SOFTTIX